History
Numata Park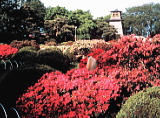 The ruins of Numata castle can be found in Numata Park. The castle was originally built by Akiyasu Numata, twelfth lord of the Numatas, in 1532. An impressive five story keep was added to the castle by Nobuyuki Sanada and the castle became known as one of the most imposing castles in Japan. The park is beautiful in any season and is especially known for its cherry blossoms in spring.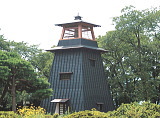 Goten-zakura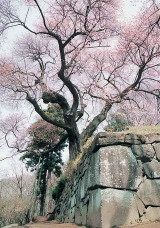 Branching out over the stone wall of the castle ruins, this cherry tree is the symbol of Numata Park and is called the goten-zakura or "palace cherry tree" as a term of endearment.
Historic Toki Residence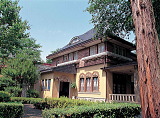 This house was the residence of Lord Toki, last lord of Numata. It was built in Shibuya in Tokyo in 1924 and was relocated to Numata in 1990. It was constructed in a German villa style with large dormer windows. The house allows us a glimpse at the formal feudal times and has been recognized as a national cultural asset.
Historic Ubukata House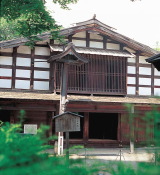 This house was owned by the druggist for the Numata clan. It was removed from its former location at midtown and relocated to its present position in Numata Park. Built in the 17th century, the house has shingle roofing and a gabled side entrance and has been designated a national cultural asset.
Mt. Kasho (Kashozan)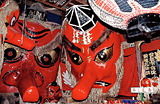 Mt. Kasho, also known as Tengu's Mountain, is home to the historic Mirokuji Temple. The temple was opened by the famous priest Jikaku from Hieizan and was once used by Ieyasu Tokugawa, the first shogun, to pray. At the temple you will find the largest tengu (long nosed goblin) mask in Japan. The mask stands 6.7 meters high and has a nose measuring 2.7 meters. Visitors can rent tengu masks for wish granting. When the wish has been realized, the mask should be returned to the temple.
Historic Suzuki House
The historic Suzuki house, built in Nango in 1785, is a "magariya", a style of building famous for its thatched roof and L shape, typical of wealthy farmhouses of that era. This type of building is especially rare in Kanto.
Takahira Manor House and Pine Tree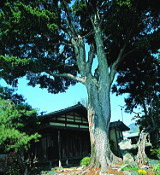 The manor house was used when the fourth Lord Sanada, Nobumasa, of Numata created a new estate. The house was later rebuilt in the shoin style of Japanese residential architechture. The house and its adjacent pine tree have been designated as prefectural monuments.
ご意見をお聞かせください
このページに関する

お問い合わせ

総務部 秘書課 広報広聴係
〒378-8501 群馬県沼田市西倉内町780番地
電話:0278-23-2111(代表) ファクス:0278-24-5179
お問い合わせは専用フォームをご利用ください