Nature
Tambara Highlands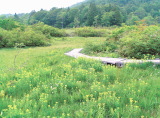 In the center of this gentle highland spreading west from Mt. Kanomata, lies Tambara Lake, a clear blue lake, which never freezes over even in winter. With the spring thaw comes the blossoming of the beautiful skunk cabbage and the entire moor becomes filled with alpine plants in summer. If you take the path to Bunadaira (a beech tree grove) you will find a "Natural Deep Breathing Zone" where you can relax and appreciate the fresh air.
Tambara Lavender Park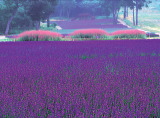 At its peak season from July to August, Tambara Lavender Park becomes a purple blanket of lavender. Offering a refreshing escape from the stifling summer heat, visitors can enjoy the aerial view as they ride the summer chair lift, as well as try their hand at various other activities including aromatherapy and lavender picking.
Tambara Ski Park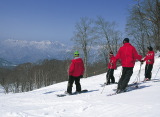 A fully equipped ski area suitable for beginners through to experts, Tambara Ski Park is a place the whole family can enjoy. Overlooking Tambara Lake from the mountain summit, one can find powder snow topped courses lined with groves of beech trees. All courses are open to both skiers and boarders and operation continues until the beginning of May.
Fukiware Falls (One of the hundred most famous waterfalls in Japan)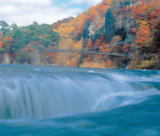 Created by erosion from the Katashina River, the Fukiware Falls, with a height of 7 meters and a width of more than 30 meters present a breathtaking spectacle. As you walk along the path that leads to the Ukishima Kannon (goddess of mercy) Temple, you can enjoy viewing some of the unusual rock formations in the area. The temple houses the legendary Jingoro Hidari's work.
Mt. Sukai (One of the hundred most famous mountains in Japan)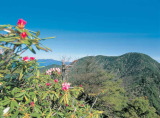 Mt. Sukai, one of the one hundred most famous mountains in Japan, was originally a sacred mountain worship place for ascetics. From the base of the trail to the summit takes about three hours by foot. Along the path you can also view the Fudo Falls and azaleas in spring. From the summit you can enjoy the view of Mt. Hotaka and other mountains in the area.
ご意見をお聞かせください
このページに関する

お問い合わせ

総務部 秘書課 広報広聴係
〒378-8501 群馬県沼田市西倉内町780番地
電話:0278-23-2111(代表) ファクス:0278-24-5179
お問い合わせは専用フォームをご利用ください