Hot Springs
Oigami Hot Springs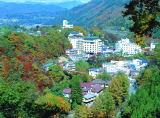 Legend has it that the Oigami hot springs were discovered by the battle injured deity of Mt. Akagi and used to heal the god's wounds. This area of the Katashina gorge has a number of long-established Japanese inns and hotels which boast of their rich variety of hot springs and friendly atmosphere. There is a popular bathing course known as the Rotenburo Junishi. Twelve of the local hot spring resorts have named their outdoor baths for the twelve animals of the Chinese zodiac. It is possible to enjoy all twelve of the baths in one day.
Morning Market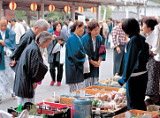 Early risers in Oigami can take advantage of an array of freshly picked vegetables and seasonal fruits grown on nearby farms. This "morning market" is open from 6:00 to 7:30 every morning from the end of April to the middle of November in front of the tourism hall.
Snow Fireflies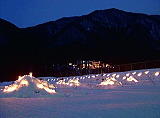 On weekends and holidays in January and February, small mounds of snow are lit with candles. This mystic light, which resembles fireflies dancing in the snow, has become a new local favorite in Oigami.
Shirasawa Highland Hot Springs Bokyo-no-yu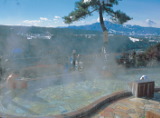 Bokyo-no-yu is conveniently located at a rest stop just off Rt. 120. The facility is equipped with saunas, Jacuzzis, and a large indoor bath, but the highlight of Bokyo-no-yu is its open-air outdoor bath with its breathtaking view over the valley facing Mt. Akagi. The view can also be enjoyed while partaking of a comfortable meal in the attached restaurant.
Nango Hot Springs Shakunage-no-yu
Constructed in a traditional Japanese style from local timber, Shakunage-no-yu provides a warm and relaxing atmosphere to those who visit. There are two main outdoor baths, one made from cypress and the other from stone. The outdoor hot springs offer a perfect place to relax as the rich fragrance of the Japanese cypress and the sound of a babbling brook wash over you. You can also try your hand at making buckwheat noodles or wisteria crafts. If you have time, you might also wish to try out the local delicacies.
ご意見をお聞かせください
このページに関する

お問い合わせ

総務部 秘書課 広報広聴係
〒378-8501 群馬県沼田市西倉内町780番地
電話:0278-23-2111(代表) ファクス:0278-24-5179
お問い合わせは専用フォームをご利用ください